Our History
Leonard S. LoVullo opened his own insurance business in 1949 on Buffalo's West Side. In the early 1950s, he took on a partner, Joseph Millemaci, and the LoVullo-Millemaci Agency was born.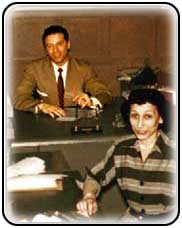 Throughout the 1950s, Len and Joe sold standard lines property and casualty insurance, as well as life, health, and accident coverage. In 1964, they met the owners of the Jefferson Insurance Company of New York, a major writer of automobile physical damage. The high demand for this coverage, and the difficulty in accessing the market, led Len and Joe to start offering it through other retail producers in the Buffalo area. By the early 1970s, their wholesale products included motorcycle, non-standard fire, and several non-standard casualty lines.
In 1975, Leonard T. LoVullo joined the firm as an underwriter trainee in the Brokerage Division. As the wholesale and retail businesses grew, the firm divided operations. In 1981, Len Sr. purchased all shares of the wholesale business, and Len Jr. was elected president of the newly formed LoVullo Associates, Inc.
Paul LoVullo joined the firm in 1986 as an underwriter trainee in the Commercial Casualty Division, and was appointed Senior Vice President in 1995. Paul oversees all underwriting functions and manages the Commercial lines department. Dave Pietrowski was hired in 1988 to assume all marketing and operations responsibilities, and was appointed Vice President in 1995. Other notable events in recent years include the firm's purchase of its first office building, located in downtown Buffalo's Theater District, and the unfortunate passing of founder, Leonard S. LoVullo, in February, 1991, at which time ownership of the business was transferred to his highly qualified and capable successors.
In 1999, the firm celebrated its 50th anniversary, and fifteenth consecutive year of growth. May of 2001 brought much excitement as operations were relocated to a newly renovated office complex at 6450 Transit Road, Depew, a suburb of Buffalo. The new facility contains state of the art communication and processing resources to provide faster and more accurate service to producers, and affords ample space for future growth and expansion into the new millennium.